New Jersey Software Company Insurance
June 16, 2021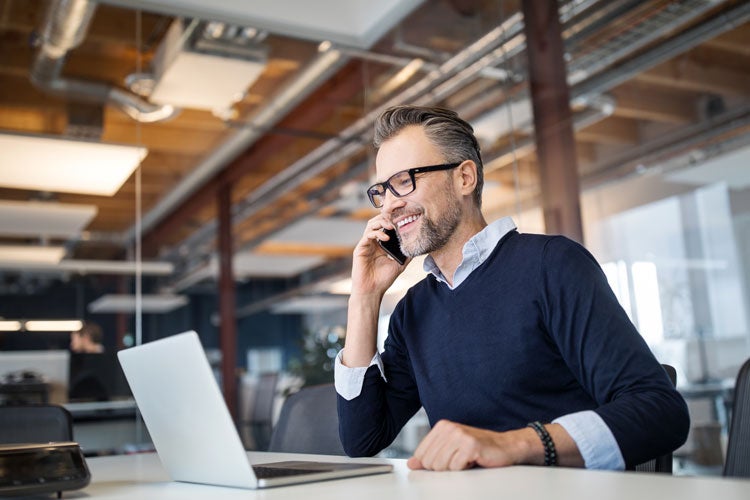 Software companies are part of one of the most booming industries in the US. When you own a business that uses valuable technology and contains personal information, New Jersey business insurance can protect your company from potential risks.
A New Jersey independent insurance agent can shop for affordable software company insurance for you. They have access to multiple carriers and can help you get the coverage you need.
What Is Software Company Insurance?
New Jersey software company insurance is a type of business insurance that protects your company from liabilities, property damage, and other risks that can be harmful to your business.
According to insurance expert, Jeffrey Green, "a software company with less than five million dollars in annual sales can get coverage with a New Jersey business owners policy. This provides coverage for property, liability, and business interruption."
If you have a large business, you can still purchase these policies individually. In addition, software companies can benefit from professional liability and cyber coverage.
How to Insure a Software Company in New Jersey
Working with a New Jersey independent insurance agent is the easiest way to start building your software company insurance package. They'll sit down with you to discuss your business operations and recommend different coverages.
Software companies need the following insurance to be fully protected.
General liability: Pays for any lawsuits for third-party injuries or property damage.
Commercial property: Pays to repair or replace damaged property and inventory as a result of hazards like fire, wind, theft, and vandalism.
Business interruption: Pays for lost wages in the event of a sudden business closure.
Professional liability: Pays for any professional mistakes that an employee might make. This includes acts of negligence and offering bad advice.
Cyber coverage: Pays for any damage that results from a data breach or leak.
Workers' compensation: Pays income and medical bills for employees who are injured or fall ill on the job.
Once your independent insurance agent has a full understanding of your business, they'll reach out to a variety of insurance carriers to pull quotes. They'll then work with you to finalize your insurance package.
Number of employees at leading software companies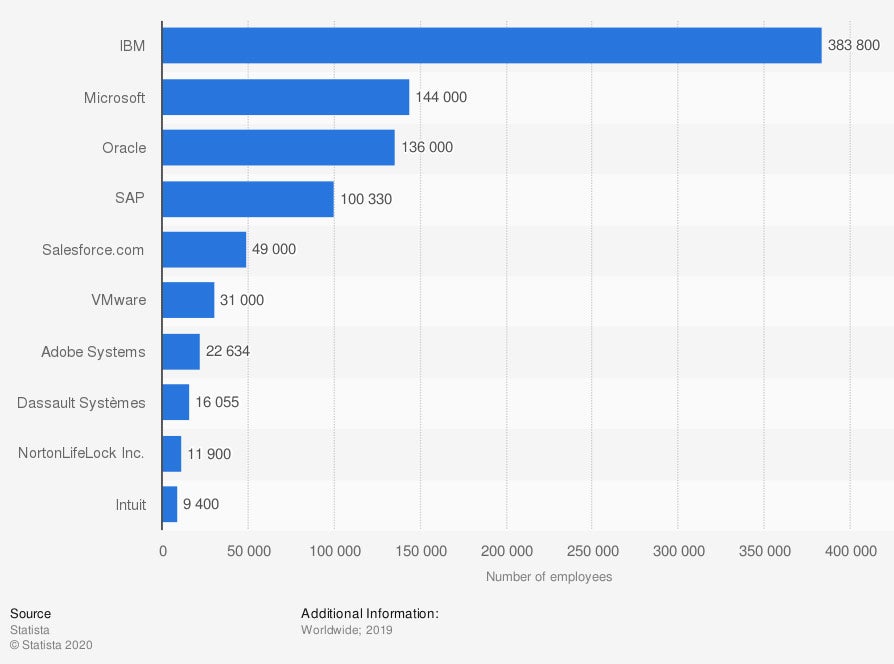 In one recent year, IBM employed 383,800 workers, far more than the other major software companies
What Does Software Company Insurance Cover in New Jersey?
Every business has different needs when it comes to insurance. Some software companies will have a brick-and-mortar location that contains a lot of equipment, and others may travel to assist customers with software issues.
The right software company insurance policy will provide the following coverages:
Third-party bodily injuries or property damage
Property damage due to wind, fire, theft, or vandalism
Data breaches, leaks, and other cyberattacks
Employee theft and employee lawsuits
Professional errors, negligence, and mistakes
Commercial vehicles that are used in operations
Employees who are injured or become ill on the job
Breakdown of computers or other equipment
What Doesn't Software Company Insurance Cover in New Jersey?
Fortunately, software company insurance can be built to be highly comprehensive. However, most business insurance policies have standard exclusions. Here are the most common:
General wear and tear on equipment
Equipment breakdown because of poor maintenance
Damage from earthquakes or flooding
Nuclear damage or other acts of war
Catastrophic events
Illegal or fraudulent activity
Exclusions are up to the insurance provider, so every policy will differ. Your New Jersey independent insurance agent can walk you through the complete list of exclusions listed in your policy.
Benefits of Software Company Insurance in New Jersey
The greatest risk to a software company is a cyberattack. Most software companies host not only large amounts of information, but also personal data.
Here's why software company insurance is so important
Organizations spent 23% more on cybersecurity last year than in previous years, yet average annual breaches have continued to increase year over year.
The average cost of a malware attack is more than $2.5 million.
The average time to resolve a cyberattack is 50 days.
The global cost of cybercrime is expected to grow 15% every year
Without the proper insurance, software companies are at risk of going bankrupt and having to close their doors if they have to pay for a cyberattack or other disaster out of pocket.
Most common cyberattacks experienced by US companies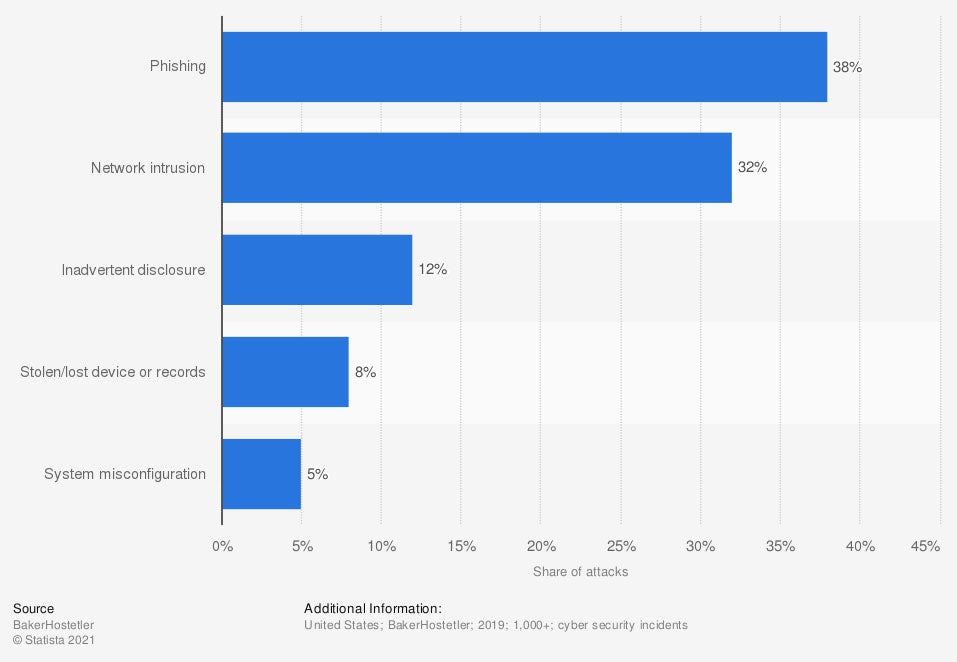 Software companies are most at risk of phishing and network intrusion of their company and its data.
How Much Does Software Company Insurance Cost in New Jersey?
Software company insurance is calculated by what it would cost for your company to replace your property or pay for a covered peril.
For this reason, carriers will look at all of the potential risks your company faces and use that to determine premium costs. The following factors are most commonly considered:
Location
Value of equipment
Type of operations
Safety and anti-malware measures already in place
Amount of personal data being stored
Claim history
Local crime rates
Local weather risks
Every carrier is different, which is why your New Jersey independent insurance agent will pull multiple quotes for you to choose from.
How Can a New Jersey Independent Insurance Agent Help?
If you need to insure your New Jersey software company, you want to go with an expert. A New Jersey independent insurance agent will speak with you, free of charge. They'll get to know your software company and your goals for your business insurance policy.
Once they have a good picture of your needs, they'll shop multiple carriers to find you affordable and comprehensive coverage. They'll save you time and stress so you can focus on running a successful business.
Callout: https://cobalt.io/blog/business-cost-of-cybercrime
https://www.grandviewresearch.com/industry-analysis/business-software-services-market
©

2022

, Consumer Agent Portal, LLC. All rights reserved.