New Jersey Field Crop Insurance
June 13, 2021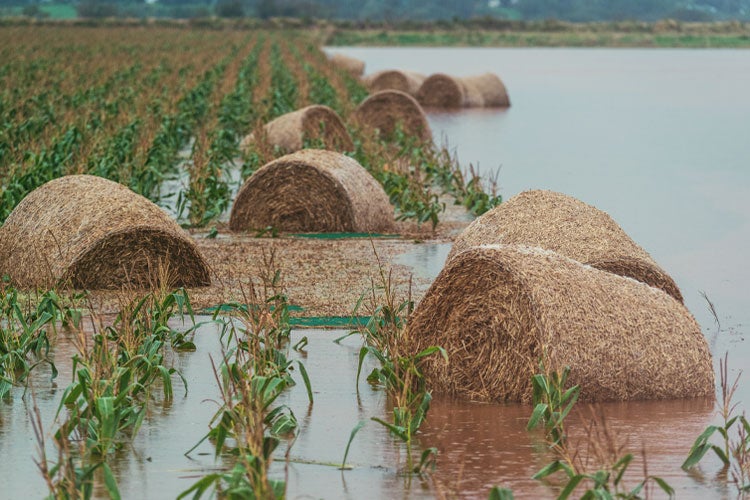 Crop insurance protects more than 149,000 acres of farmland in New Jersey every year. The state is a top producer of tomatoes, bell peppers, and soybeans, which is why field crop farmers need crop insurance coverage.
The right New Jersey independent insurance agent knows that field crop insurance is a unique type of farm insurance. They will help you find and purchase insurance to protect your crops from any potential risks. To start, let's discuss the benefits of field crop insurance.
What Does Field Crop Insurance Cover in New Jersey?
Field crop insurance is managed by the USDA Risk Management Agency (RMA) and only sold through private insurance carriers. It's purchased by farmers to help protect their crops against damage or turmoil due to extreme weather, diseases, or wavering crop prices.
Events that are covered by field crop insurance include
Diseases and wildlife
Drought
Freezing
Floods
Fire
Insects
Loss of revenue due to a decline in crop price
Field crop insurance covers more than 120 different crops. Policies will also cover 38 specialty crop categories that include roughly 80 types of fruits, vegetables, tree nuts, and nursery crops. The crops must be planted in order to be covered.
Why New Jersey farmers need field crop insurance
New Jersey crops contribute $1.1 billion to the state's economy
149,196 acres protected
$81.8 million in liability protection provided
$1.8 million paid by farmers for coverage
$2.5 million paid out by crop insurers for losses
What Doesn't Field Crop Insurance Cover in New Jersey?
Some crops are excluded from field crop insurance policies based on geographical area.
"There are different purchasing seasons for different crops," said insurance expert Paul Martin. "There are even different seasons for the same crop depending on the region where you live."
For this reason, it's important to work with a New Jersey independent insurance agent who is experienced in buying crop insurance. They'll understand what crops will be covered and the deadline for purchasing insurance.
Other exclusions on your field crop insurance include hail damage, which is covered by a crop-hail policy, and some flooding events.
Does Field Crop Insurance Cover Droughts in New Jersey?
A field crop insurance policy will cover any losses that occur to planted crops as a result of drought. You must have the federal crop insurance coverage and have purchased it before the drought occurs.
While New Jersey is not known for experiencing extreme drought, there have been times when the state has been affected by this weather pattern. Since 2000, the drought with the longest duration lasted 55 weeks, running from 2001 into 2002.
Monthly drought severity in the US from January 2017 to January 2020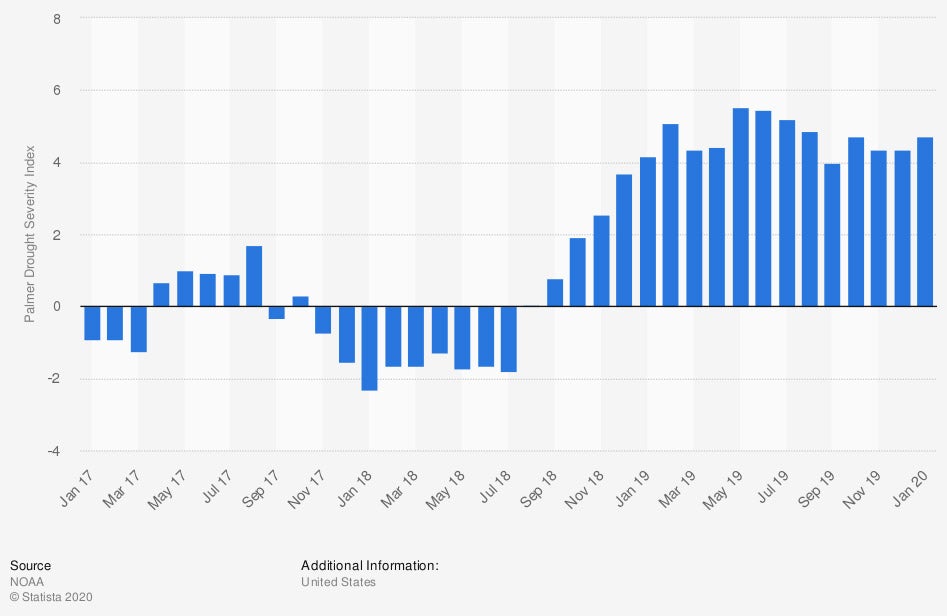 Drought affects regions across the US. Crop insurance coverage is critical to have in the event of a drought in your area.
Do I Need Farm and Ranch Insurance to Be Fully Covered in New Jersey?
A field crop insurance policy will offer comprehensive coverage for your crops, but New Jersey farmers have a lot more to think about than what's planted in the ground.
According to Martin, farm and ranch policies are specialized to fit the individual farmer's needs. Most farms can benefit from additional coverages such as liability and property damage.
It's recommended you sit down with your New Jersey independent insurance agent and discuss the following farm and ranch insurance options:
Each of these policies provides unique coverage for your farm and assets.
What Are Some Common Risks to My New Jersey Crops?
New Jersey field crop farmers face a variety of risks that can lead to crop failure and negatively impact productivity. The most common risks include
Increased heat and precipitation: New Jersey's average temperature has risen 2.9°F over the last 100 years. Warmer temperatures reduce crop productivity. The state is also experiencing heavier rainfall than ever before.
Production: A variety of weather patterns, diseases, and pests can affect the quality and amount of crops produced.
Crop prices: The market price of crops affects how much a farmer will get for their harvested commodity and how much they have to pay for their crop.
Fortunately, field crop insurance helps pay for financial losses resulting from these risks. Your New Jersey independent insurance agent can make sure you get your field crop insurance policy purchased long before you need it.
How Can a New Jersey Independent Insurance Agent Help?
Farm insurance, including field crop insurance, is a unique type of coverage. Not all insurance agents have experience purchasing this coverage. That is why a New Jersey independent insurance agent is the right place to start. They know the right questions to ask, and will do it free of charge.
Your agent will get to know you and your farm and help you purchase the right field crop insurance for your farm.
Graphic 1: https://cropinsuranceinamerica.org/new-jersey/
Graphic 2: https://www.statista.com/statistics/1101425/drought-severity-united-states-monthly/
https://www.drought.gov/states/New-Jersey#:~:text=New%20Jersey%20has%20experienced%20little,in%20the%20Drought%20Impact%20Reporter.
https://njclimateresourcecenter.rutgers.edu/climate_change_101/farming-food-and-climate-change-in-new-jersey/
https://www.ers.usda.gov/topics/farm-practices-management/risk-management/risk-in-agriculture#:~:text=Five%20general%20types%20of%20risk,and%20human%20or%20personal%20risk.
https://www.iii.org/article/understanding-crop-insurance
https://fas.org/sgp/crs/misc/R45459.pdf
©

2022

, Consumer Agent Portal, LLC. All rights reserved.