How to Insure a Winery in New Jersey
May 24, 2021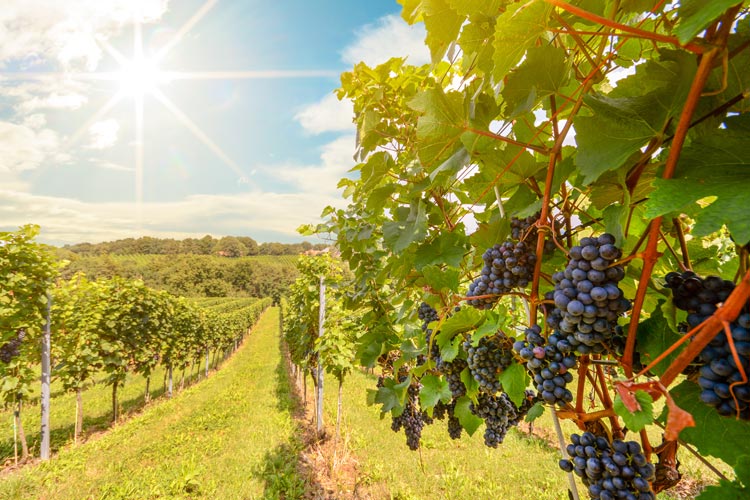 Wineries have many components and working parts, and they all need their own protection against numerous hazards. Without the proper coverage for any of these aspects, your winery could end up shutting down and hurting your profits. That's why it's best to be equipped with the right winery insurance policy from the start.
Fortunately a New Jersey independent insurance agent can help you find the right type of winery insurance to protect your business against many different types of disaster. They'll also get you set up with this coverage long before you ever need to use it. But before we get too far ahead of ourselves, here's a breakdown of this crucial coverage.
What Is Winery Insurance?
Winery insurance is essentially a special form of New Jersey business insurance designed with the needs of wineries in mind. Since wineries have many additional factors that need to be considered, from plants to barrels and more, they require several special coverages. A New Jersey independent insurance agent can help you find a winery insurance package that includes all of these important aspects together in one convenient policy.
What Does Winery Insurance Cover in New Jersey?
Winery insurance provides the basics of business insurance with specialized coverages on top. According to insurance expert Jeffery Green, a winery insurance package includes the following basic protections to start with:
Commercial property insurance: Your winery's building, as well as other property like vineyards, barrels, tools, and special equipment, all need protection against the elements of nature, fire, vandalism, and more.
Business interruption insurance: Your winery also needs protection against unexpected temporary business closures caused by a covered peril, like a fire. Business interruption coverage helps your winery to continue its income stream (and employee wages) during covered shutdowns.
Commercial general liability insurance: Any third party who claims to have been injured or suffered property damage due to your winery could press charges against you. Commercial general liability insurance covers attorney and court fees in case of a lawsuit.
Your New Jersey independent insurance agent can ensure that you walk away with all the coverage you need for your winery.
What Additional Coverages Do Wineries in New Jersey Need?
Beyond the basics of business insurance, your winery needs several coverages specifically tailored to its components. Green stated that wineries have specialty operations coverage that's available for these risks:
Wine contamination
Leakage
Tank and/or barrel damage
Chemical liability
Crop disasters
If your winery has its own crops, you'll want to work with a New Jersey independent insurance agent to add crop insurance to your policy to protect against numerous threats, including disease outbreaks and freezing.
Winery Stats for the US
Before shopping for coverage for your winery, it's helpful to know how the industry overall is performing. Check out some recent stats for wineries nationwide below.
Industry revenue of "wineries" in the US from 2012 to 2024 (in billion US dollars)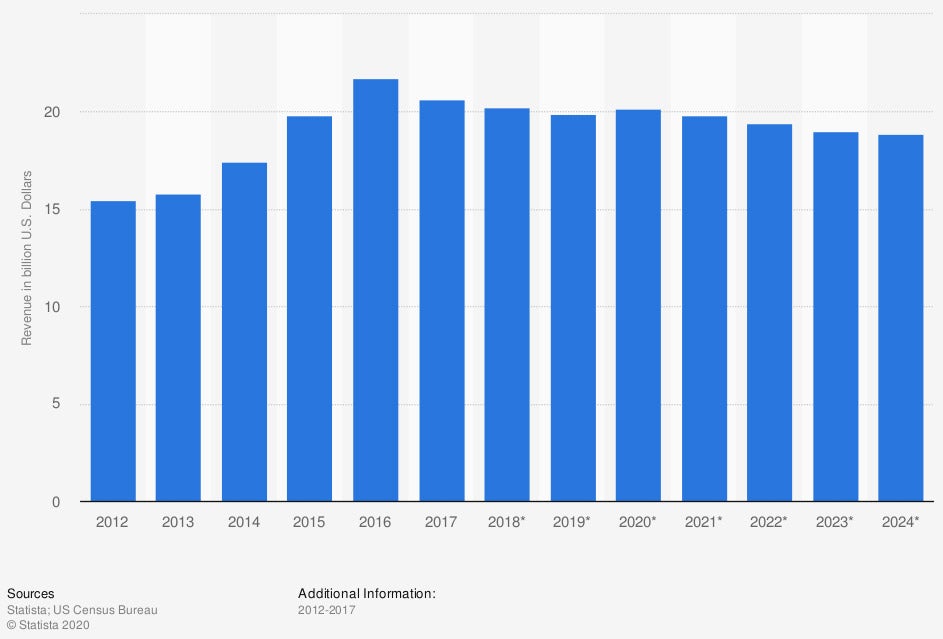 Industry revenue for wineries in the US has noticeably increased in the past decade, and it's projected to remain fairly consistent in the coming years. The winery industry generated $20.16 billion in 2020, and is projected to generate $18.9 billion in 2024.
Wineries are an extremely profitable industry, which makes it all the more important to get yours covered ASAP. Get in touch with a New Jersey independent insurance agent today to find the right winery insurance in your area.
Do Wineries in New Jersey Need Special Liability Coverage?
According to Green, many wineries have shops and restaurants on their premises that require coverage accordingly. You'll want to make sure your winery insurance policy comes with enough general liability insurance to protect you in case of a lawsuit in any of these areas.
If you're concerned that you don't have enough coverage under your basic liability insurance, you might want to talk to your New Jersey independent insurance agent about adding a commercial umbrella insurance policy to your winery insurance. Umbrella coverage increases your liability insurance amount to $1 million, or even higher if you choose.
Can I Afford Winery Insurance in New Jersey?
The cost of your winery insurance will depend on several things, like your exact location, but in general, coverage tends to be highly affordable. Smaller wineries with relatively few risks often pay below $100 monthly for their policies, while larger wineries with much higher turnover can pay several hundred per month, or even more.
To calculate the exact cost of your winery insurance, you'll need to review various aspects of your business, such as its size, annual revenue, location, and more. A New Jersey independent insurance agent can help you find more specific quotes and figures for winery insurance near you.
Here's How a New Jersey Independent Insurance Agent Can Help
When it comes to protecting wineries against fire, lawsuits, and all other expensive threats, no one's better equipped to help than an independent insurance agent. New Jersey independent insurance agents search through multiple carriers to find providers who specialize in winery insurance, deliver quotes from a number of different sources, and help you walk through them all to find the best blend of coverage and cost.
chart - https://www.statista.com/forecasts/310807/wineries-revenue-in-the-us
https://www.irmi.com/docs/default-source/afis-handouts/wineries-and-vineyards-exposures-and-insurance.pdf?sfvrsn=6
©

2022

, Consumer Agent Portal, LLC. All rights reserved.