What Does Landlord Insurance Cover in New Jersey?
July 24, 2021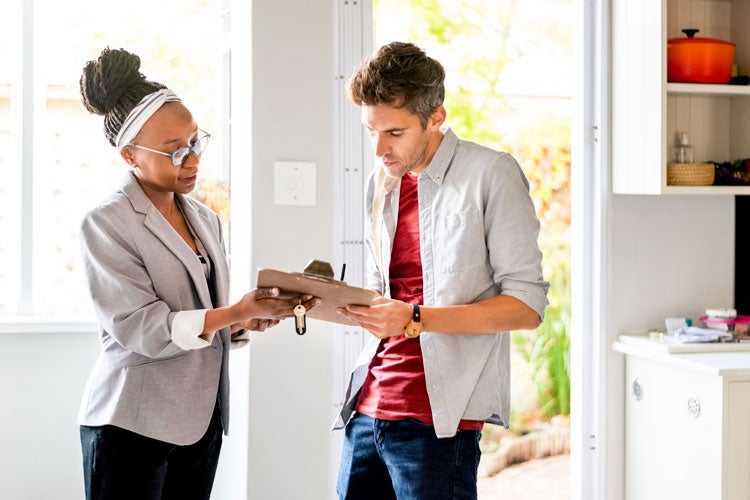 Landlords could be looking to insure a property they're leasing out or a home that they're renting. Whatever your situation, if someone else will be occupying your space without you there, landlord insurance can offer protection against potential risks.
In New Jersey, you may receive some coverage through your homeowners insurance, but there are other options to consider. A New Jersey independent insurance agent is an expert in insurance that can help you cover any properties you own.
What Is Landlord Insurance?
Landlord insurance is a type of home insurance that protects property that you rent or lease out from any damage or accidents.
It's purchased by individuals who have property that is rented or leased to other people.
What type of rental units are occupied in the US?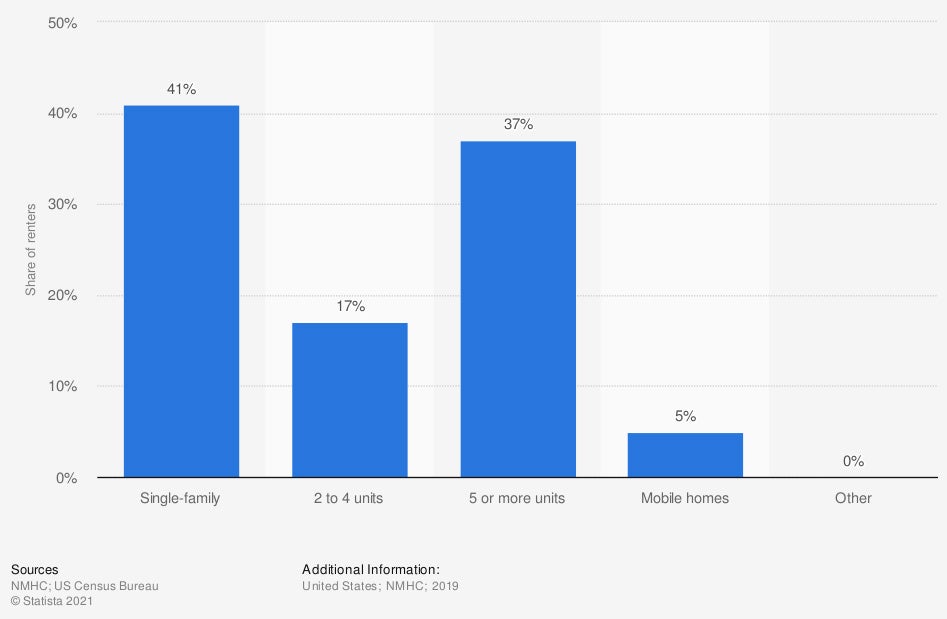 41% of renters in the US live in single-family homes.
What Does Landlord Insurance Cover in New Jersey?
Even if you're not the one occupying your property it's still at risk of weather-related damage, personal property damage, and events like theft or burglary.
Commonly, landlord insurance is purchased as a dwelling policy. "We use the term dwelling in homeowners insurance, but it's not the same thing," explained insurance expert Paul Martin. "Dwelling insurance covers most of the same things as homeowners insurance on the property side, but it doesn't include any type of liability."
Landlord insurance will include the following coverages
Dwelling coverage: Covers any damage from fire, wind, hail, smoke, theft, and other named perils in your policy.
Personal property: Covers damage or loss to any essential personal property left in the rental unit.
Structure coverage: Covers any damage to additional structures on the property, such as detached garages.
Landlords should consider liability insurance
General liability insurance: Pays for legal fees and medical bills associated with any third-party bodily injuries or property damage that occurs on your property.
What Doesn't Landlord Insurance Cover in New Jersey?
Similar to New Jersey homeowners insurance, certain causes of loss will not be covered by landlord insurance.
Flood and earthquakes: Flood insurance and earthquake insurance policies can be purchased separately for your property.
General wear and tear: Any damage that is caused by wear and tear or poor maintenance will not be covered.
Occupants' personal property: Landlord insurance will not cover the personal property of your tenant. They can purchase renters insurance for coverage.
Pest damage: Pest infestations are excluded from insurance coverage.
Your New Jersey independent insurance agent can provide you with a comprehensive list of exclusions in your landlord policy.
What Is the Benefit of Having Landlord Insurance?
Landlords have to think about the risk of damage from natural disasters and any damage caused by tenants. You also have to consider potential injuries like slips and falls that could take place on your property.
Landlord insurance provides protection and helps pay for the financial costs associated with these risks. Without the proper coverage, any accident or event would have to be paid for with your personal finances.
Since you cannot monitor what is going on at your property, landlord insurance provides financial reassurance that you can recover should something happen.
Homeownership rates in the US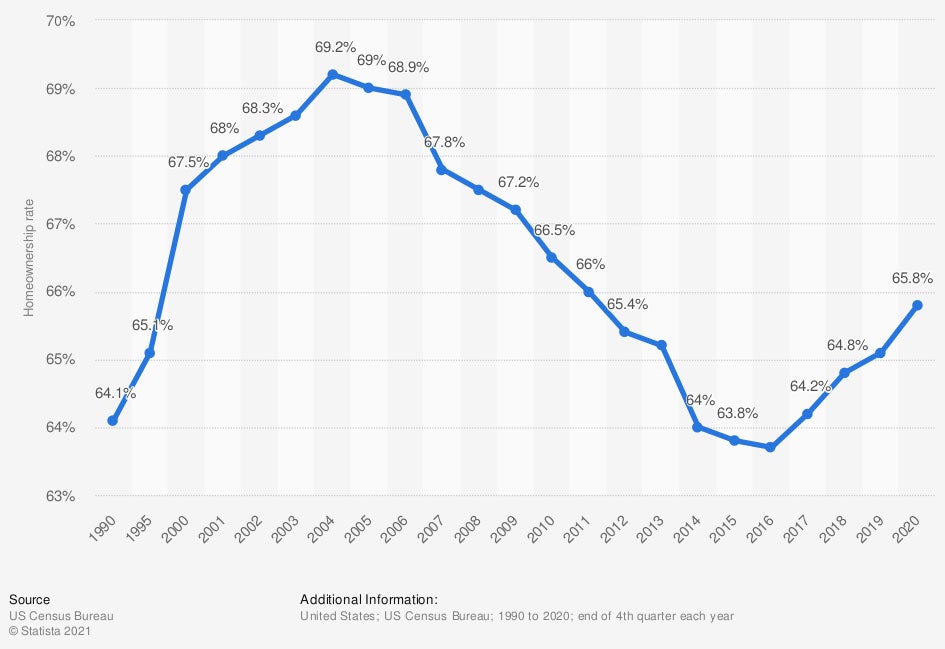 65.8% of homes are owned and occupied by their owners in the US.
How Much Does Landlord Insurance Cost in New Jersey?
Similar to New Jersey homeowners insurance, premiums for landlord insurance will vary depending on the type of property, size, value, and location.
Landlords who own multiple properties may be able to save money by opting for a commercial property policy.
"Commercial insurance is not worth the cost for one or two properties, but if you have ten properties you can get better coverage for less money," explained Martin.
According to Martin, landlord insurance is typically less expensive than homeowners insurance because it doesn't include liability coverage.
The average homeowners insurance policy costs $1,192 a year in New Jersey.
How Can a New Jersey Independent Insurance Agent Help You?
Landlord insurance can protect all of your properties from any potential risks. Finding a good policy with a reputable company is crucial, so it's best to work with an expert.
A New Jersey independent insurance agent will sit down with you, free of charge, to learn about your property and the amount of coverage you need. They'll shop multiple carriers and can advise you on comprehensive and affordable options.
https://www.statista.com/topics/4465/rental-market-in-the-us/
Geo data on home insurance
https://www.nmhc.org/research-insight/quick-facts-figures/quick-facts-resident-demographics/household-characteristics/
©

2023

, Consumer Agent Portal, LLC. All rights reserved.