Service Line Coverage: A Crucial Connection for New Jersey Homeowners
March 16, 2021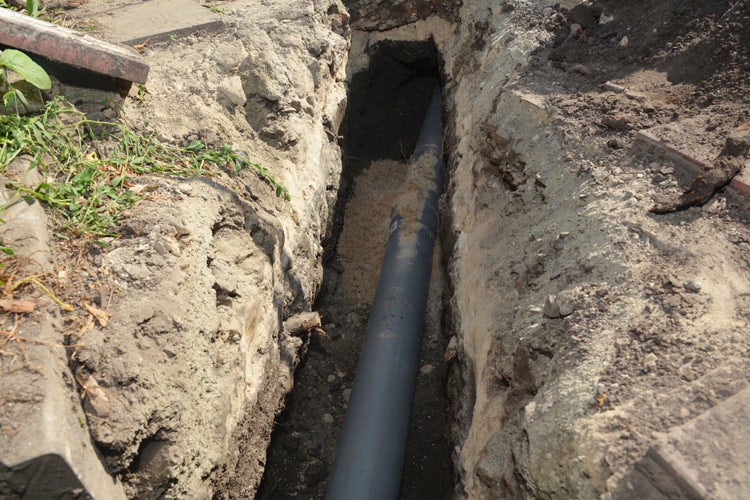 Service lines are seldom on homeowners' minds — because they exist outside the home, largely out of sight, and unfortunately out of mind, until the day a major problem makes their presence felt. That's when service line coverage reduces a lot of stress, worry and financial burden.
What is a service line?
Your home's network of service line connections is the infrastructure that links your dwelling with municipal sewer systems, and allows you to access the basics of modern life — water, natural gas, underground electricity and internet service lines. As vital as these services are to most households, however, those pipes and wires tend to escape notice — and when a water or sewer line freezes or breaks, a lightning strike results in a damaging power surge to electrical wiring, or an invasive tree root causes major disruption below the surface of your property, it's only then that many policyholders realize that their homeowners insurance does not extend to the service lines outside their walls.
The Situation Hits Home for NJ Homeowners
For many New Jersey homeowners, the 2012 "superstorm" known as Sandy had a second-wave impact that was just as devastating as the event itself, when thousands became aware of the inadequacy of their existing insurance policy's flood protections. The recent pandemic emergency — an extended interlude during which many families were forced to move their work, school, and social lives inside the walls of their homes — performed a similar function, as a catalyst that sparked a new level of consumer awareness.
As a supplement to standard homeowners policies, service line insurance offers another level of peace of mind.
In the words of Scott Stanford, president of the Monmouth County-based Stanford Agency, "Service line coverage is a vitally important endorsement for a homeowners policy. So much of a home's infrastructure is located underground and subject to the perils of time and mechanical failure. We have all become accustomed to working from our homes during COVID, but imagine if your underground electric was damaged and you were left with no electricity or internet to provide a means of working remotely."
Every owner knows that a good homeowners policy does the job of protecting their investment against the major concerns of fire, extreme weather, vandalism and theft, at the same time as it protects them from liability issues that may arise in or around the home. While there have always been exclusions associated with such policies — ranging from the work of the tiniest pests to literally earth-shaking catastrophes — it's not always common knowledge that the things connecting a home to the main service lines of utility companies and municipalities are the responsibility of the homeowner. As a supplement to standard homeowners policies, service line insurance offers another level of peace of mind about places that have become ever more central to all aspects of our lives.
Why Service Line Coverage Can Be Your Most Important "Lifeline"
Simply put, service line insurance is an extension of coverage for the water/ sewer pipes, electrical wiring, data transmission cables and gas lines that make your home livable — as well as all of the connecting and regulating devices that help bring these valued services into your life.
Service line insurance generally covers:
Major utility systems
Connections to irrigation and drainage systems, various heating technologies, and fiber optic cable
Leaks
Ruptures
Power surges
Freezing damage
Repair/replacement costs
Surface damage to your property (including necessary excavation of driveways and replacement of landscaping)
Expenses related to service interruptions (including temporary alternate living arrangements)
What's typically not covered is self-contained features such as fuel oil tanks or septic systems, replacement of well pumps or other dedicated equipment, relocation of water pipes and electrical lines, and service lines that run beneath bodies of water or through other structures. But with the average service line repair job costing upwards of $4,000 — and with excavation expenses representing a significant part of the total price tag — protections such as water line insurance and sewer line insurance are a necessity rather than a luxury, especially given the advanced age of so many municipal systems.
"Replacing a broken sewer line can cost $10,000 or more vs. the nominal premium charge for this type of endorsement."
"Failure of a service line is an immediate emergency that results in major out-of-pocket expenditures if not covered. Such repairs often require digging up your lawn, walkways, or driveways," says Stanford.
Your house doesn't need to be a historic antique to be vulnerable to the unseen ravages of aging systems. Water and sewer lines of little more than a few decades usage can still fall prey to excessive corrosion, temperature extremes, and tree root damage, particularly those using materials that have been phased out by many contractors in more recent years. It's also worth noting that even the most state-of-the-art service line installation may connect at some juncture with water mains, gas lines, transformers and other infrastructure that is seriously in need of replacement. This increases the risk of system-wide outages, backups, and surges that can affect your home life in needlessly expensive ways.
Be Prepared for Any Imaginable Emergency…for Less Than You Ever Imagined.
Perhaps the most surprising thing about service line insurance is that it's a relatively inexpensive enhancement to your homeowners insurance coverage. And it represents a great deal of value, while costing less than dedicated insurance options offered by many energy or water utilities, and even some municipalities.
As Scott Stanford observes, "Replacing a broken sewer line can cost $10,000 or more vs. the nominal premium charge for this type of endorsement, which is typically less than $50 annually."
Whether you're looking to customize a water and sewer line insurance plan to meet your needs, or create a comprehensive protection program that addresses all of the water, heating and energy issues that can affect your home in the future, your best investment is the time you put into educating yourself about this too-often overlooked aspect of your property's long-term integrity. Stay a step ahead of potential problems by scheduling annual cleaning and maintenance of your home heating system, inspecting for leaks, "winterizing" and securing your property for the colder months, and paying attention to how close trees are to overhead wires, underground connections, and external AC units.
Most important of all, set up a date to consult your Trusted Choice independent insurance agent about the advantages of insuring your water, sewer, gas and electrical lines. Ask about coverage options that save you more in the long run by favoring environmentally sound/ energy efficient solutions to service line issues, and learn how service line insurance can cover your home's most significant connections to the world beyond your property line.
©

2022

, Consumer Agent Portal, LLC. All rights reserved.