What Is New Jersey Inland Marine Insurance?
June 18, 2021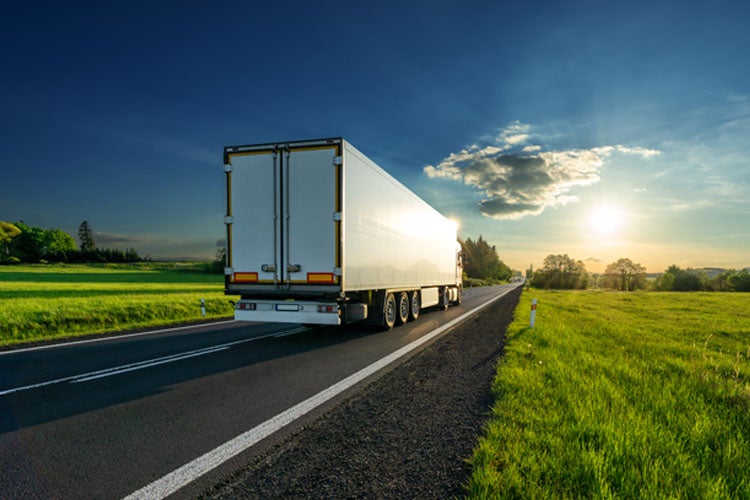 With many insurance policies out on the market, it can be tricky to know how to protect your assets. When you own an operation, it can be fun and challenging all at once. Fortunately, New Jersey business insurance will have inland marine coverage for your equipment.
A New Jersey independent insurance agent has access to several carriers so that you get the best deals in town. They'll find coverage that won't break the bank, saving you time and money. Connect with a local expert for tailored quotes in minutes.
What Is Inland Marine Insurance?
There are numerous commercial property policies your business could secure. Inland marine insurance in New Jersey is a common policy for a lot of operations. It covers your business property while it is being transported or stored by a third party.
Inland marine insurance: Replaces or repairs your business property when a covered loss occurs. This could be from heavy machinery to tools in transit. The items insured will depend on the policy and the carrier.
Distribution of net premiums written by property and casualty insurance companies in the US in 2019, by line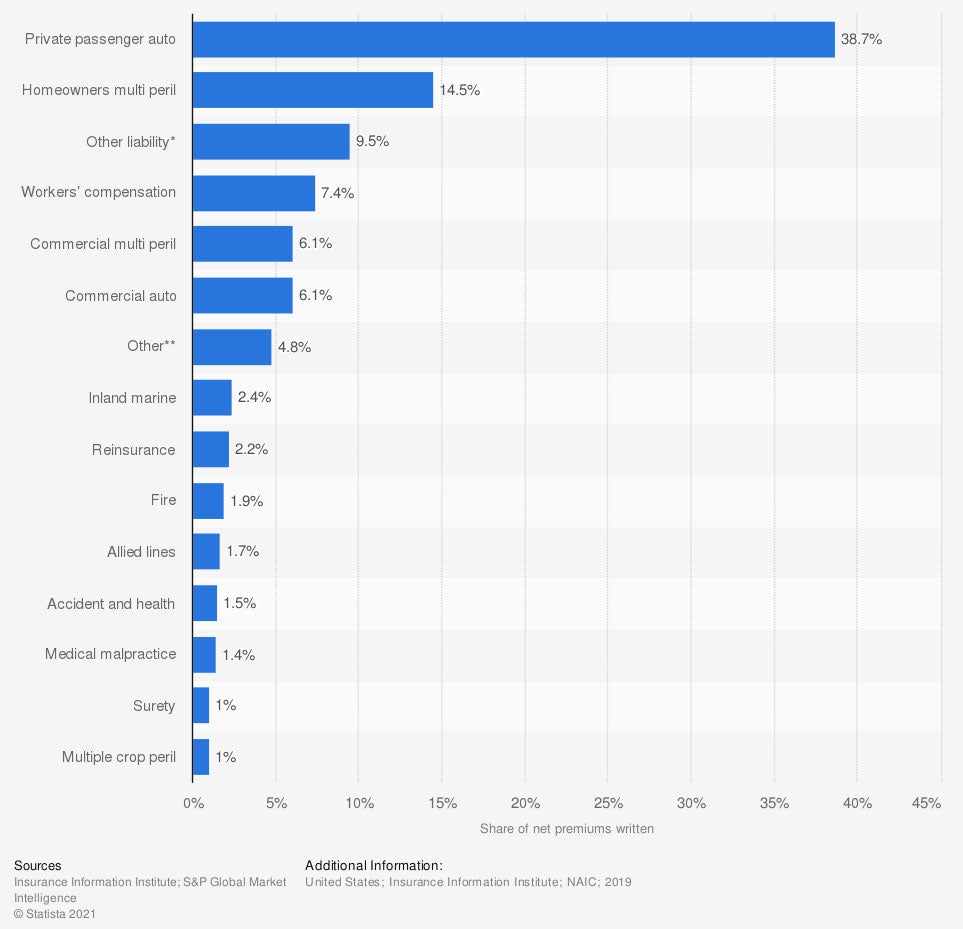 Some of your largest assets are covered by inland marine insurance. It's crucial to understand how you're protected.
What Does Inland Marine Insurance Cover in New Jersey?
New Jersey inland marine insurance will come with standard protection for fire, theft, vandalism, and natural disasters. Your industry can determine what special inland marine coverage you may need as well. Some examples of these are as follows:
Bailee's insurance: Used for client property that is left in the care, custody, and control of your business.
Builders risk insurance: Protects the property and materials used when building a structure.
Installation insurance: Used when items are in transit up until they are installed. Also known as in transit coverage.
Optional Inland Marine Insurance Coverages in New Jersey
As a business owner in New Jersey, you'll have optional coverages that you can add as needed. Check out some items that may not be included in your typical inland marine policy but can usually be added:
Mysterious disappearance: Pays for missing property when the cause of loss can't be discovered.
Accidental damage: Pays for the replacement or repair when an item is dropped. This can be in transit or when loading or unloading.
US equipment rental market size from 2000 to 2024, by segment (in billion US dollars)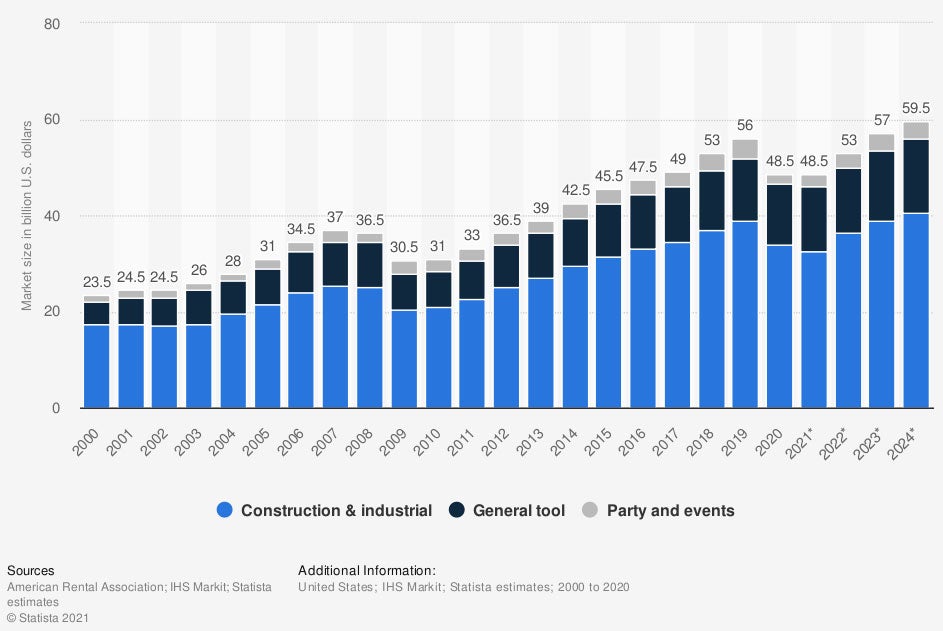 When you lease out expensive equipment to others as a daily operation, then you're at risk. The proper coverage is necessary to avoid and personal expenses.
How Much Does Inland Marine Insurance Cost in New Jersey?
Every business insurance premium will be specific to your operations and risk factors. Carriers look at these factors when calculating your New Jersey insurance costs:
Value of items
Prior claims
Coverage limits
Risk mitigation measures
State claims records
Does Inland Marine Insurance Cover Theft in New Jersey?
Theft and vandalism are a part of everyday life when you're a property owner. Fortunately, your inland marine insurance will have protection against these types of losses. If you transport or lease your equipment, this coverage can be extremely useful.
What Is Personal Inland Marine Insurance in New Jersey?
If you have personal items that are more valuable than others, you may want a policy that protects accordingly. Personal inland marine insurance will cover your scheduled assets at an appraised value. See what's traditionally listed under this policy type:
Furs
Guns
Artwork
Jewelry
Golf clubs
Musical instruments
Work with a New Jersey Independent Insurance Agent Today
New Jersey business insurance can be challenging when you're not sure where to start. There are multiple policy options, making it confusing to know how coverage is applied. Fortunately, a licensed professional can help you review your policies for free.
A New Jersey independent insurance agent will do the shopping for you at no additional cost through their network of carriers. This gives you the best coverage and premium options around. Connect with a local expert on TrustedChoice.com to get started today.
Graphic #1: https://www.statista.com/statistics/447946/distribution-of-net-premiums-written-by-pc-insurance-usa-by-line/
Graphic #2: https://www.statista.com/statistics/1200030/us-equipment-rental-market-size-segment/
http://www.city-data.com/city/New-Jersey.html
©

2022

, Consumer Agent Portal, LLC. All rights reserved.