From Pool Umbrellas to an Umbrella Policy
July 12, 2022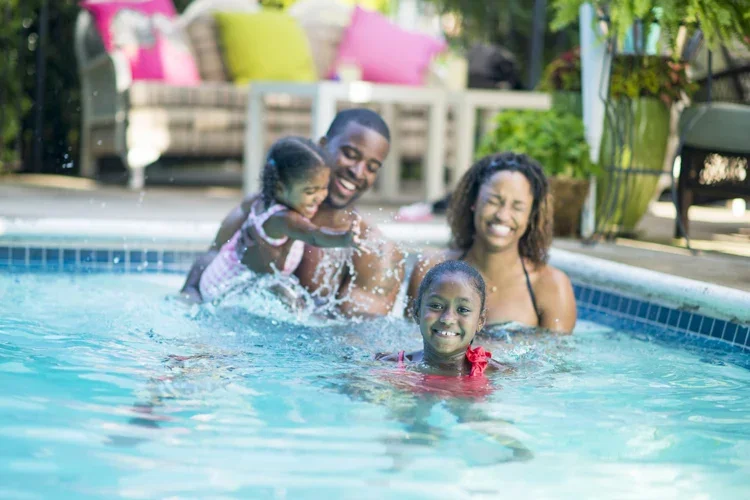 Why Your Homeowners Policy Isn't Enough When It Comes to Your New Pool
Having a pool in your backyard provides a place to relax and enjoy New Jersey summers. But a pool also comes with significant risk and potential liabilities. Plus, it can be extremely expensive to repair and rebuild if it sustains damage in a storm, flood, or fire.
Before purchasing a house with a pool, or adding a pool on your existing property, it's important to consider how your insurance needs will be impacted.
Does Homeowners Insurance Cover Damage to an In-Ground Pool?
Most homeowners insurance policies cover in-ground pool damage. If your pool is damaged in a covered event, coverage for "other structures" in your existing policy will pay for the repairs at the levels specified in your policy.
If a tree damages your pool after falling during a windstorm, New Jersey homeowners insurance will help pay the costs to repair it, up to the policy's limit and after deductibles are met. This would also apply, generally, to damage from fires, hail, hurricanes, lightning, and similar weather events.
Keep in mind that home insurance policies don't apply to pool damage due to floods or earthquakes. If you live in an area prone to flooding, you'll want to purchase a stand-alone flood insurance policy.
Are Above-Ground Pools Covered by Homeowners Insurance?
Above-ground pools are usually covered by homeowners insurance as personal property (rather than as an "other structure"), because they are not a permanent addition to the property. Check your personal property insurance coverage limits to be sure your above-ground pool is adequately covered. Typical limits are 50%–70% of the dwelling insurance limit, but every policy varies. Your agent will be your best resource to understand the coverage you need, and whether your existing policy provides that.
Be sure to tell your agent if you install an above-ground pool in your backyard. Otherwise, it's possible that the pool might not be fully covered in the event of a claim.
How Much Does a Pool Raise Insurance Rates?
Having an in-ground pool in your backyard is likely to increase your homeowners insurance premium, and talking with your independent insurance agent can help you understand what factors influence this increase. Traditionally, premiums can increase based on the following:
Your insurance carrier and individual policy. Keep in mind that you may be able to mitigate large increases with certain safety measures, like adding a fence around the pool area.
Your home's rebuild value. Having a pool increases the cost to rebuild your home back to its original condition after a loss.
Additional risks. This includes risks associated with bodily injury claims, such as non-fatal injuries like near-drowning incidents, and other structure claims.
Safety First
Non-fatal swimming pool injuries can be extensive and life-altering. Near-drowning can result in severe brain damage and long-term health issues. Medical costs for near-drowning victims under 15 years old average more than $8,000 for initial hospital treatment, and more than $250,000 each year if long-term care is needed. If the drowning-related injury results in brain damage, the overall cost of medical treatment combined with work and quality of life losses could cost as much as $5.5 million.
Keep yourself and your pool guests safe by following common sense safety measures
Never leave a child unattended in or near water
Teach children how to swim.
Teach children to stay away from drains.
Ensure all pools and spas have compliant drain covers.
Install proper barriers, covers and alarms on and around your pool and spa.
Know how to perform CPR on children and adults.
Do not use a pool or spa while impaired.
Swimming Pools and Liability Coverage
Standard homeowners insurance policies include liability insurance to pay for third-party bodily injury claims if someone gets injured at your home, including while using your swimming pool. Another portion of your policy, called medical payments coverage, will help to pay for the injured person's medical bills. Coverage limits apply to both liability and medical payments coverage, though, so it may be necessary to raise your limits for more protection if you have a pool. This will help if a lawsuit occurs and your coverage limits don't cover the full cost of your legal defense and settlement, potentially requiring you to pay a large sum out of pocket. Discussing your limits and additional coverage options with an independent insurance agent can help protect your home and life savings.
Consider Umbrella Insurance
If your liability coverage is already maxed out, another option is to purchase a separate umbrella insurance policy. Personal umbrella insurance policies extend the coverage of your other liability insurance plans, including the liability portion of your homeowners insurance, and can be relatively inexpensive. A typical New Jersey personal umbrella policy costs less than $400 per year for $1 million in coverage. Choosing the right umbrella insurance will give pool owners peace of mind by increasing their liability limits, and decreasing the financial burden in the event of an expensive accident or lawsuit.
Plus, by talking to an independent agent, you can identify if there are savings options that apply to your individual situation. Common discounts, such as if you have a claims-free insurance record and good credit, may add an additional level of savings, making your umbrella policy even more affordable.
Why Work with a New Jersey Independent Insurance Agent?
In order to get the protection you need and deserve, you'll want to work with a trusted expert. And who could be better for the job than a local agent who shares your zip code? New Jersey independent insurance agents are armed with knowledge about what coverage is needed in your area, and take the time to learn exactly how much coverage is necessary for your individual needs.

These agents act as your own personal insurance shoppers, offering you more options than one-policy companies. With just one call, they'll start gathering multiple quotes for you to review so you can be sure you get the right coverage at the right price.
And, because they're your dedicated agent, they're not just there at the beginning. They're also there to help walk you through the claims process and make sure you're getting the benefits you're entitled to should an event occur.
Examining Pool Safety Issues: Hearing Before the Subcommittee on Consumer Affairs, Product Safety and Insurance May 2006 - see transcript at https://books.google.com/books?id=s58ZFfTK_acC&pg=PA30&lpg=PA30&dq=Medical+costs+for+near-drowning+victims&source=bl&ots=Uf_LNWhkom&sig=ACfU3U0hYkxtay4q66JkXPLN0e2k7MZWnw&hl=en&sa=X&ved=2ahUKEwijvMCi5bL4AhVZkokEHW31CeY4FBDoAXoECBYQAw#v=onepage&q=Medical%20costs%20for%20near-drowning%20victims&f=false
©

2023

, Consumer Agent Portal, LLC. All rights reserved.