New Jersey Boat Insurance
May 11, 2021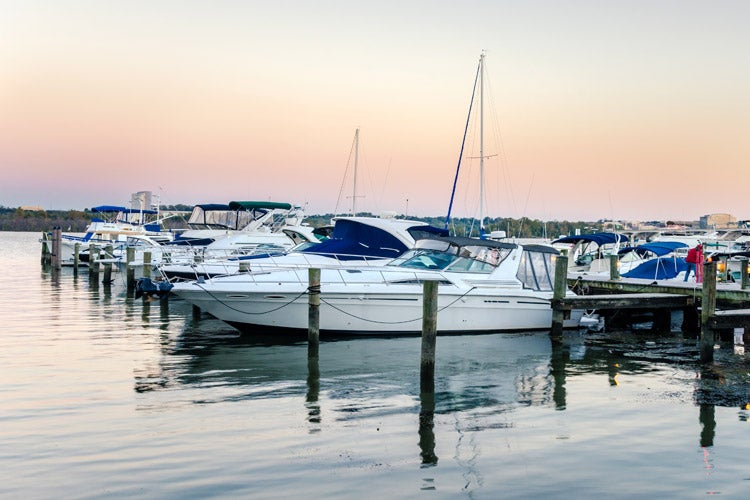 When you own a boat, you need to make sure it's covered against all kinds of disasters both on the water and while docked at the marina. Not only do you need to guard your property against threats like storm damage and theft, but also protect yourself against unexpected lawsuits. Fortunately boat insurance is designed to cover all of this.
Even better, a New Jersey independent insurance agent can get you set up with all the boat insurance you need. They'll also get you the coverage required long before you ever need to file a claim. But before we get too far ahead of ourselves, here's a deep dive into this critical coverage.
What Is Boat Insurance?
Boat insurance is very similar to New Jersey car insurance in that it's designed to protect your boat against numerous threats like collisions, theft, vandalism, storm damage, and more. Basically, boat insurance is a contract with an insurance company in which they agree to reimburse a boat owner for covered financial losses of their watercraft. A New Jersey independent insurance agent can get you set up with the right boat insurance policy for you.
How Much Is Boat Insurance?
While the price of your specific boat insurance policy will vary based on a lot of different factors, common costs of coverage range between $200 and $500 annually. If you purchase just bare bones liability coverage, however, you might only pay between $75 and $100 annually.
The cost of boat insurance in New Jersey will depend on these factors:
The type and value of your boat
The horsepower of your boat
How frequently you use your boat
Any prior boat or car insurance claims
Your driving record
Your age and boating experience
Yes, details of your car insurance records can also impact your boat insurance rates. Your New Jersey independent insurance agent can help you find exact boat insurance quotes for your area.
Is a Boat Covered under Homeowners Insurance?
According to insurance expert Paul Martin, your boat is likely to be covered to a limited extent under a standard New Jersey home insurance policy. Coverage limits for boats are usually around $1,000, or 10% of your home's total insured value. But it's important to know that your home insurance policy won't cover liability claims related to your boat. So it's critical to get a boat insurance policy if you plan to actually use your boat rather than leave it in the garage.
Why Do I Need Boat Insurance?
When considering boat insurance, it's handy to know why having coverage is so important. Check out these recent stats relating to boating accidents below and see for yourself.
Recreational boating accidents by primary contributing factor in the US, 2019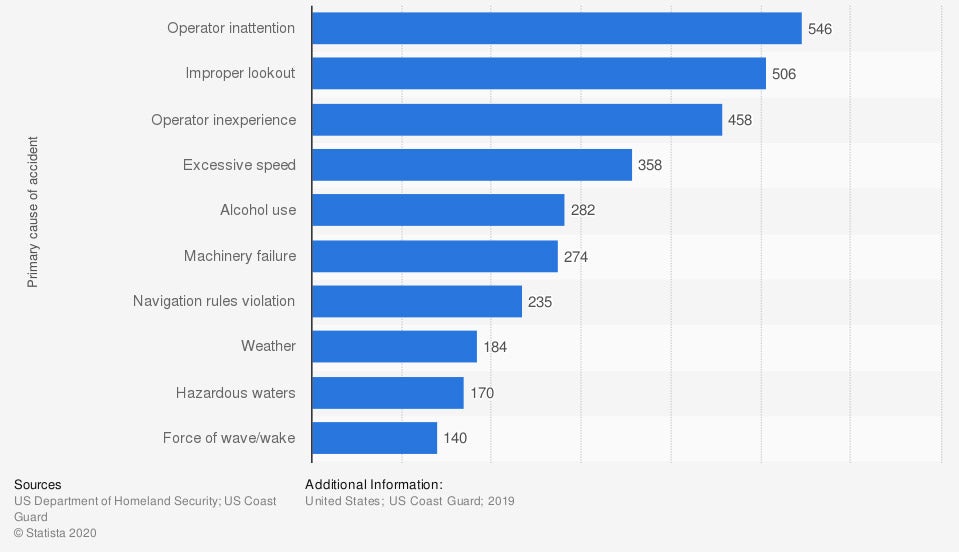 In 2019, there were nearly 550 boating accidents caused by operator inattention. Improper lookout was the second-leading cause of accidents at 506 total reported. Operator inexperience led to 458 reported boating accidents.
Knowing that human error is by far the leading cause of boating accidents, it's crucial to be equipped with enough protection from every possible angle before your boat ever leaves the dock. A New Jersey independent insurance agent will help you get set up with the right coverage.
What Does Boat Insurance Cover in New Jersey?
Boat insurance covers not only your physical boat, but also yourself as the operator, as well as other boat owners. Basic boat insurance policies include these main coverages:
Personal property damage: Covers your boat, trailer, or engine if any of these components get damaged by a covered peril like vandalism, lightning, etc.
Medical payments: Covers the treatment of injuries to you and/or your passengers who get hurt by or on your boat.
Property damage liability: Covers property damage costs to third parties caused by your boat in the event of a lawsuit.
Bodily injury liability: Covers costs of treatment for third-party injuries if they're physically harmed by your boat.
A New Jersey independent insurance agent can further explain the basics of boat insurance in your area.
What Kind of Boat Insurance Do I Need in New Jersey?
Depending on your specific boat and situation, Martin said you may need up to several additional coverages to your standard boat insurance policy. Commonly added boat insurance coverages are:
Uninsured/Underinsured boaters: Covers your injury expenses if another boater is responsible for an accident and doesn't have any/enough insurance to cover it fully.
Emergency assistance: An endorsement that provides water towing and other assistance services.
Fishing equipment: Your fishing equipment may be included up to a certain limit, such as $1,000, but you can either add this coverage or increase your limits.
Roadside assistance for your boat/trailer: This coverage guarantees that a towing company will take your boat and trailer along with your vehicle if you need roadside assistance.
Water sports liability: Your boat insurance policy might exclude water sports from its liability section, so review your coverage with your New Jersey independent agent to determine if it needs to be added.
Your New Jersey independent insurance agent will help you determine which, if any, additional coverages are right for your boat insurance policy.
Here's How a New Jersey Independent Insurance Agent Can Help
When it comes to protecting boat owners against accidents, theft, and all other perils, no one's better equipped to help than an independent insurance agent. New Jersey independent insurance agents search through multiple carriers to find providers who specialize in boat insurance, deliver quotes from a number of different sources, and help you walk through them all to find the best blend of coverage and cost.
chart - https://www.statista.com/statistics/240603/recreational-boating-accidents-in-the-us-by-primary-cause/
https://www.iii.org/article/boat-insurance-and-safety
https://www.irmi.com/term/insurance-definitions/boatowners-policy
©

2022

, Consumer Agent Portal, LLC. All rights reserved.